41° Cantiere Internazionale d'Arte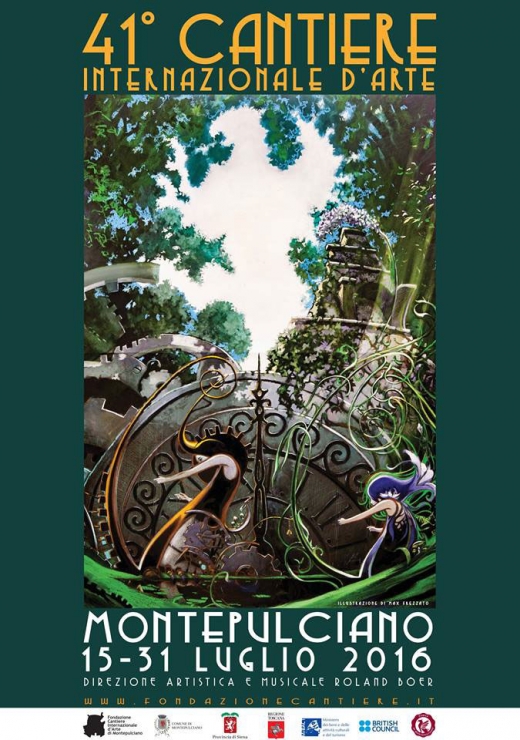 The 41st Cantiere Internazionale d'Arte will run from 15th to 31st of July 2016. Opera, symphonic and chamber music concerts, contemporary ballet, theatre, performance : more than 40 events will take place in Montepulciano and in the hinterland of Siena with over 400 international artists. Cantiere Internazionale d'Arte, founded in 1976 by Hans Werner Henze, promotes interaction between international professionals and young talents who express themselves in a creative setting surrounded by the marvels of Montepulciano's architecture and landscape.
The 41th edition is inspired by the theme of Nature and Technology under the artistic direction of Maestro Roland Böer. The festival extends to picturesque settings in Cetona, Chianciano Terme, San Casciano dei Bagni, Sarteano, SInalunga, Torrita di Siena and Trequanda. The official artwork is made by Max Frezzato.
ICARUS 15-16 of July
(opera by DAVID BLAKE / KEITH WARNER)
world première
POLLICINO 29-30-31 of July
(opera by HANS WERNER HENZE / GIUSEPPE DI LEVA)
DIDO AND ÆNEAS 22 of July
(opera by HENRY PURCELL)
RNCM SYMPHONY ORCHESTRA, ROLAND BÖER
27 and 31 of July
BALLET GALA 23 of July
ACCADEMIA NAZIONALE DI DANZA
COMPAGNIA FRANCESCA SELVA, ÉCOLE DE BALLET
RNCM ENSEMBLE, ALESSANDRO FERRARI
and...
NOTOS QUARTETT, MONTFORT QUARTETT
MARKUS BELLHEIM, JUSTUS GRIMM & FLORIAN WIEK
THOMAS PIETSCH & DAGMAR LÜBKING
L'INCOGNITA "MAH" (VALERIA PARRELLA / MARIA CONCETTA GRAVAGNO / CARLO PASQUINI)
ISTITUTO DI MUSICA "H. W. HENZE", ALESSIO TIEZZI
MODUS ENSEMBLE, MAURO MARCHETTI
TRIO VOX & DUO SOLEIL, FREE CHAMBER BRASS
ENSEMBLE IL FISCHIO / EL CIMARRON ENSEMBLE
ORCHESTRA POLIZIANA / CORALE POLIZIANA / JUDY DIODATO
CORSO DI COMPOSIZIONE DAVID GRAHAM
ORCHESTRA SCOLASTICA REGIONE TOSCANA, GISELLA COSI
SERGIO SORRENTINO / JACOPO FRANCINI
MOSTRA REINCARNAZIONI (GIANNI FANELLO)
GIOVANI ARCHI POLIZIANI / COMPUTER CLASS
MOSTRA SCENOGRAFIE / BANDE DELLA VALDICHIANA
E-mail: This email address is being protected from spambots. You need JavaScript enabled to view it. / infoline: +39 0578 757007
Additional Info
Data:

Friday, 15 July 2016