Canneto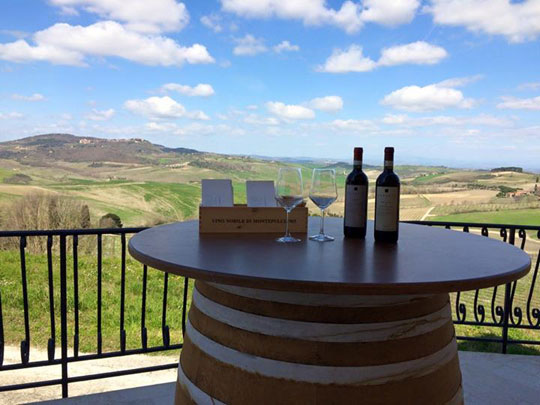 Address: Via dei Canneti 14
Locality: Montepulciano
Phone: 0578 757737
Fax: 0578 758573
Web site: www.canneto.com
Email: This email address is being protected from spambots. You need JavaScript enabled to view it.
The Canneto vineyard, on the western slopes of Montepulciano, near the wonderful church of Madonna di San Biagio, has a long tradition of wine making. Since the purchase the current Swiss owners have restored the buildings with great respect for the rich wine growing tradition. A new wine cellar has been built, new machinery and equipment installed and the vines and olive trees have been pruned and when necessary replaced.
The vineyard covers some 48 hectares, of which about 26 hectares are planted with vines. Fifteen hectares are registered for the Vino Nobile. The vines are grown on moderately heavy, pebbly mar soil between 350 and 400 metres above sea level. The vines are raised on predominantly south west facing slopes in a horizontal spurred cordon system. A further four hectares of land is devoted to the cultivation of olives for extra virgin olive oil.
In the middle of the 70's, individual wine connoisseurs in the Zurich region began to import their house wine from Montepulciano on an annual basis. In time, this circle of enthusiasts grew and the desire for our own vineyard took shape in our hearts and minds. In 1987, an existing vineyard came up for sale, much to the delight of a dozen Swiss enthusiasts who did not hesitate to seize this wonderful and unique opportunity. Canneto AG was founded in Zurich and took over the Azienda Agricola Canneto vineyard as its subsidiary. Now we could supply partners and friends with our"own" Vino Nobile. Our circle of customers gradually expanded to include our partners' friends and acquaintances.
Even today Canneto is not obtainable from large wholesalers and so it enjoys a certain exclusivity, which even our customers in the restaurant trade can value. By using local, professional wine experts combined with the sales and marketing efforts of the partners, we try to obtain the best possible quality. At the same time we keep the price of our products reasonable. The enthusiasm of the amateurs and the passion for our Canneto is more alive than ever!