Toscana Arcobaleno d'Estate 2018 – From 21 to 24 June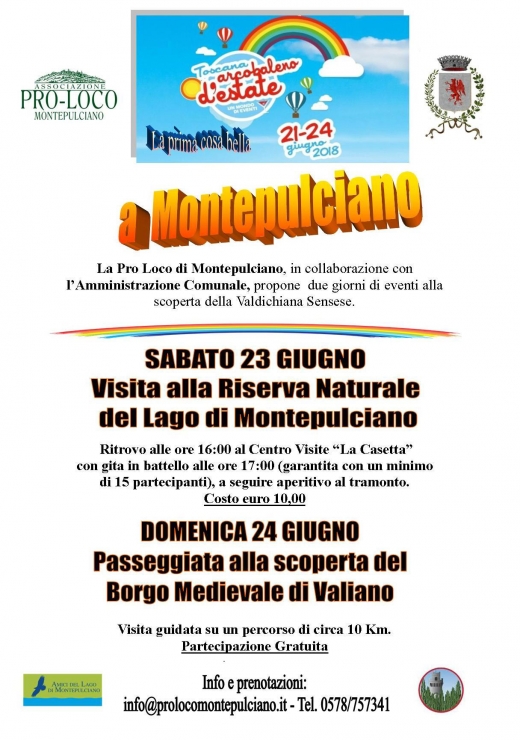 Arcobaleno d'Estate is back, the event promoted by Regione Toscana, with the support of Toscana Promozione and Fondazione Sistema Toscana, Tuscany Arcobaleno d'Estate is an initiative for the promotion of tourism and commerce in Tuscany. The event takes the form of three days of celebration dedicated to the Tuscans and tourists and involves the whole territory.
It is an opportunity to enhance and launch, during the opening of the summer season, all the Tuscan excellences: food and wine, music, art and entertainment but also history and nature, all the best that the our territory can offer. The party that celebrates among all, history, monuments and the Tuscan landscape.
"La Prima cosa Bella" is the theme of Tuscany Arcobaleno d'Estate 2018.
The leitmotif of this sixth edition of the Summer Festival will be the search for all the "first beautiful thing" of Tuscany: from the beauty of nature to the conviviality of good local food.
For a conscious look at the territory, its richness and potential delicacy.
The Pro Loco of Montepulciano, in collaboration with the Municipal Administration, proposes two days of events that affect the entire Municipal territory starting from Saturday 23, meeting at 16:00 at the "La Casetta" Visitor Center to realize the visit to the Nature Reserve of Lake of Montepulciano, with a boat trip at 17:00 (guaranteed with a minimum of 15 participants) and followed by an aperitif at sunset.
On Sunday 24 there is an interesting guided walk to discover the medieval village of Valiano: a journey of about 10 km with a stop in a local company to taste the excellent products of the area.
In the historical center will remain open the info points Pro Loco, Civic Museum, Torre Comunale and Tourist Office.
For Arcobaleno d Estate, the Pro Loco of Montepulciano offers two dates to discover the beautiful territory of the Sienese Valdichiana, among nature, vineyards, paths, medieval villages and nature reserves.
Saturday 23 will be the turn of the Lake of Montepulciano Nature Reserve, in collaboration with Centro Visite la Casetta and Amicidel Lago di Montepulciano.
Cost 10 Euros per person.
Domenica 24 instead is proposed a walk with guided tour to the medieval village of Valiano, in collaboration with Ass. Il Bersaglio.
Participation is free of charge.
The Prima cosa bella, the rainbow tema of Summer 2018, is certainly the FIRST WALK in Spain, a choice that will make you experience the territory in a different way, an unforgettable experience that combines rural and green turism to the local culture and food and wine.
For information and reservations PRO LOCO MONTEPULCIANO +39 0578757341 This email address is being protected from spambots. You need JavaScript enabled to view it.
Sunday, June 24, at the end of the guided tour of the village of Valiano it will be possible to continue the trekking path along the Path of Reclamation and reach the Lake of Montepulciano to participate at the event: Pic Nic dal Mondo, with tastings of typical dishes from different countries of the World.
Info and reservations Friends of Lake of Montepulciano 0578/767343 and This email address is being protected from spambots. You need JavaScript enabled to view it.
Additional Info
Data:

Thursday, 21 June 2018